For families with children
Archeopark Chotěbuz-Podobora is a popular site for children to have fun and an ideal destination for families with children.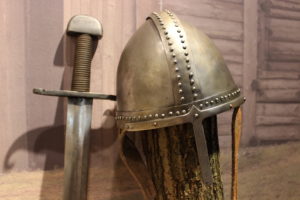 The interactive displays in the entrance building offer a range of elements inviting children to play and explore actively: they can touch and try out the replicas of historical items, including elements of armour; draw and build a range of items in the Chotěbuz theme; they can use the multimedia equipment with or without their parents to test their skills in interactive quizzes, and more.
You can try archery and other experiential activities on the historic site. As their part, children can pretend to be archaeologists and try to find and map the finds; use quern-stones to grind grain; use a traditional method to weave shoe-laces from yarn; try writing in Glagolitic script; and cast tracks of animals living around the hillfort.
Mascots of the Archeopark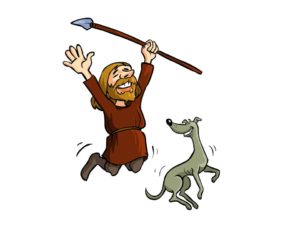 The Archeopark mascots are Kminek the greyhound and its master, Mr. Slav Choteslav, who accompany children and point out interesting and fun elements to them. Why them?
A rare find was discovered during an exploration session of the Chotěbuz acropolis. There were a few bones of an unusually large dog that was kept in the ancient acropolis by the Slavs. Scientists managed to identify both the animal type and age and its specific breed. Most likely, the dog was a breed highly unusual in the region: similar to the Polish Greyhound, hailing from today's central Poland or the Baltics, most likely brought to Chotěbuz as a luxury purchase or present. It was owned by the local ruler, a gem in his dog pack, and proof of long-distance trade at that time.